Today we held our Head Boy and Deputy Head Boy Assembly
We announced our Head Boy and Deputy Head Boy to the senior boys. We gathered together for our assembly outside in the glorious sunshine to make the announcement. Miss Osborne was on hand to perform her last duty before she goes off on maternity leave. Congratulations to the boys on their well-deserved achievement.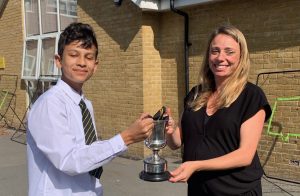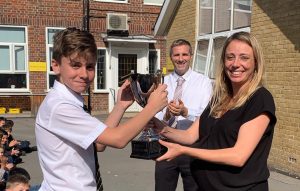 What characteristics are we looking for in a Head Boy and Deputy Head Boy?
Choosing a Head Boy and Deputy Head Boy is always a difficult job. All our Year 8 boys have outstanding qualities so it can be a hard decide; however, we do have three terms. We decided a long time ago to choose two boys per term. This gives some boys who are still maturing the chance to shine later in the year.
We do have to make choices though and the characteristics we are looking for are linked to our principles in many ways. It is important that those chosen strive to model these principles:
Veritas, Puritas and Probitas – or purity, honesty and decency
We are looking for:
Maturity – the ability to make good judgments and model honesty and decency in all aspects of their learning
Organisation – someone who will organise themselves and help to organise others. Year 8 have to perform many duties around the school. The ability to sort out those jobs and get the rest of Year 8 to complete them, while monitoring their progress, is very important.
Leadership skills – to organise the Year 8 team, the younger boys and help staff during key events during the year.
Motivation – the ability to inspire and motivate the school and to model excellent behaviour.
After today's announcement, our Head Boy and Deputy Head have already made a wonderful start!</>
Mrs Fleming