Y8 Common Entrance Success
The past eighteen months have been a difficult time for all of us, but as the Y8 Form Tutor, I have seen at first hand how difficult it has been for the boys taking life-changing examinations.
Last March, as we went into lockdown, remote learning began for these boys. Each morning, all the Y8 boys were there with me for registration via Google Meet. Some bleary eyed, others rushing to hide cereal bowls, in a range of sweatshirts and hoodies but nonetheless there, without fail, day in day out. These boys attended all Google meet lessons with all their teachers and continued to submit work and homework diligently.
Fast forward to this term. The boys were so excited to be back and see each other again. Even though they knew it was the term leading up to their exams they were still relieved and happy to be back. They continued to work hard and completed all their regular duties around the school with a calm and positive attitude.
On the last day before half term, as other classes were excited to have a break, I looked at Y8 and advised them to make sure they managed to have some break, however small. They looked back nervously as they knew the week after half term was CE week. The week they had been working towards for two years.
CE week came and went. It was hot and the boys crowded each day into the gym for their exams. They did so with good grace, and the week they had worked towards flew by.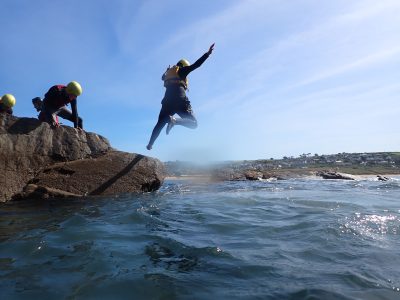 Last week we all went with Mr Gill for their well-deserved post-CE trip to Cornwall. Spain wasn't possible this year, but Mr Gill was able to put together an amazing trip. The boys had a surfing lesson, went coasteering, Go Kart Racing, Quad Biking, Zip Wiring and had a great afternoon in the Adrenalin quarry.
It was an amazing trip and the boys impressed Mr Gill and I with their good behaviour. They were an absolute pleasure to be with. The best part of the trip was to see these young men (as they are mostly 13 now) enjoy themselves together. They laughed, joked and enjoyed each other's company, on a trip they will, I'm sure, remember for a lifetime.
This week they received their CE results. We couldn't be more proud of them, and I know their parents certainly are. Despite Covid 19, Y8 produced a fantastic set of results. In ten out of eleven subjects, 91% of the boys achieved grade B or above, with five of those subjects at least 73% attained A or A*
As I opened the spreadsheet to view the results I was struck by the array of As and A*s in particular, and I breathed a sigh of relief for them. All the boys got their grades and I know they will do themselves proud at the City of London, Haileybury, St Albans, St Edmunds, Mill Hill and Mounthouse schools.
We have a tradition of many of our boys going on to be Head Boys at their future school. A perfect example is Mr Davis, who has come back for a year to support in Y4, after finishing Aldenham School, before going to Cambridge University. I hope, and have every confidence, that this will remain true for the Class of 2021.
Mrs Fleming