Year 8 Raffle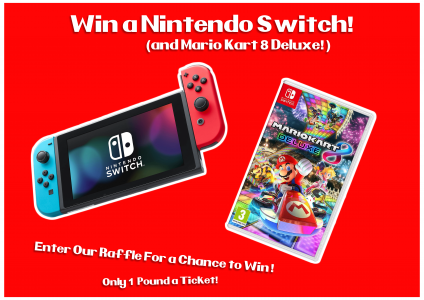 In January 2019, just before lockdown, Y7 and I went to the Bett exhibition. We have some really enthusiastic programmers in this year group and we had an amazing day. We got to chat with the Fable team and try out their new robotics kits, and spent the day checking out all the latest technology on offer.
On one of the stands, a prize was sealed in a giant clear plastic tube. The Prize was the latest Nintendo Switch. There was a queue to try and win it. The tube was locked by a padlock which only opened if you figured out some difficult problems and solved them in just the right order. People were walking away having not managed to figure out the solutions. The then Y7 boys ( now Y8 ) asked if they could give it a go. They were desperate! I could see all these people – many of them adults – leaving disappointed, but in the "can-do" spirit said, "of course, go for it!"
I left them to it for a couple of minutes while I picked up a leaflet from another stand only to be greeted by an excited Y7 class beaming at me and carrying the Nintendo Switch! They had won it! Dharman had solved the lion's share of the problems but was ably aided by the rest of the class.
The boys on their return wanted to donate the Switch to charity but lockdown took hold. They are now leaving for pastures new but the Nintendo has never been opened and sits in the school office. The boys, this week, asked if they could raffle it and present it to the winner in the final assembly next week. The money will go to a charity of Dharman's choice.
Tickets will be £1 and Y8 will be selling them next Monday, Tuesday, and Wednesday first thing at the gate. I hope it will make one young man very happy to receive it on the final day.
Thank you in advance for your support
Mrs Fleming